Cable Tray Manufacturers in Coimbatore
At GK Industries, located in Coimbatore, we are your trusted source for a comprehensive range of cable tray systems. Whether you're searching for cable trays, electrical cable trays, ladder cable trays, or perforated cable trays, we have the expertise and products to meet your needs.
Material Used in Manufacturing of Cable Trays
Our cable trays are constructed from various materials, including:
Aluminium : Lightweight and versatile, suitable for most indoor applications.
Stainless Steel (SS): Ideal for harsh environments, offering corrosion resistance and durability.
Galvanized Steel : Providing robust protection against corrosion.
Fiberglass : Non-conductive, ensuring electrical safety.
PVC/Plastic : An economical choice for less demanding applications.
Purpose of Cable Tray : The primary purpose of a cable tray is to manage and support cables, wires, and conduits. At GK Industries, our cable tray systems offer efficient cable routing and a well-organized, cost-effective solution.
Benefits of Cable Tray Systems
Our cable tray systems deliver numerous advantages, such as:
Ease of Installation: Simple to install and modify.
Cost-Effectiveness: A budget-friendly cable management solution.
Flexibility: Adaptable to different cable types and layouts.
Durability: Resistant to corrosion and environmental factors.
Maintenance-Friendly: Easy access for maintenance and repairs.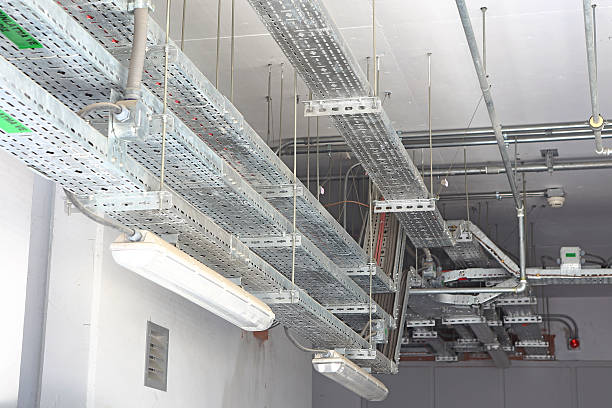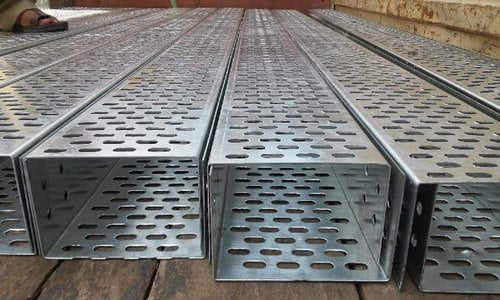 Product Cable Tray Specifications
Our range of cable trays comes in various specifications, including:
Length: Available in multiple lengths to suit your project requirements.
Width: Various widths to accommodate different cable bundles.
Thickness: Varies based on material and load capacity.
Height: Different heights for optimal cable support and airflow.
When you choose cable tray systems from GK Industries, you benefit from:
Quality Assurance: Our cable trays meet industry standards for quality and safety.
Customization: Tailored solutions to your unique requirements.
Expertise: Our experienced team provides guidance and support for your project.
Quick Delivery: Timely delivery to ensure your project stays on track.
Industries We Serve: Our cable tray systems cater to a wide range of industries, including manufacturing, energy, data centers, construction, oil and gas, telecommunications, and more.
Here's what one of our satisfied clients has to say
'We've been using cable trays from GK Industries for years, and their products have consistently met our high standards for quality and reliability. Their team's expertise and exceptional customer service are second to none.'"
What are cable trays, and why are they essential in cable management?
Cable trays are support systems designed to manage and organize electrical cables and wires. They are essential for preventing cable damage, ensuring safety, and maintaining a well-structured cable routing system.
What materials are cable trays typically made from?
Cable trays can be constructed from various materials, including aluminum, stainless steel, galvanized steel, fiberglass, PVC/plastic, and more. The choice of material depends on the application and environmental conditions.
What are the advantages of using cable tray systems from GK Industries?
Our cable tray systems offer benefits such as easy installation, cost-effectiveness, flexibility in cable management, durability, and ease of maintenance. We also provide custom solutions and ensure timely delivery.
How can I determine the right cable tray specifications for my project?
The length, width, thickness, and height of cable trays depend on your specific requirements, cable types, and load capacity. Our experienced team at GK Industries can assist you in choosing the right specifications.
Which industries do your cable tray systems cater to?
We serve a wide range of industries, including manufacturing, energy, data centers, construction, oil and gas, telecommunications, and many others.
Can I request custom cable tray solutions for my unique project needs?
Yes, we offer custom cable tray solutions tailored to your specific requirements. Our team will work with you to create the perfect solution for your project.
Are your cable trays compliant with industry safety standards?
Yes, our cable trays are designed and manufactured to meet industry safety and quality standards to ensure the safety and reliability of your electrical infrastructure.
What types of cable trays do you offer, and do you have hot-dip galvanized and powder-coated options?
We offer a variety of cable tray types, including ladder cable trays, perforated cable trays, and more. We also provide hot-dip galvanized and powder-coated options for enhanced durability and corrosion resistance.
How can I get in touch with GK Industries for more information or to place an order?
You can contact us through our website, by phone, or by visiting our location in Coimbatore. Our team is ready to assist you with your cable tray requirements.
Do you offer installation services, or can you recommend professionals for cable tray installation?
While we do not provide installation services, we can certainly recommend qualified professionals for cable tray installation in your area. Our team can offer guidance and support during the installation process.
If you have any more questions or need further information, please feel free to reach out to our expert team at GK Industries.
GK Industries is your one-stop destination for top-quality cable tray systems in Coimbatore. Contact us today to discuss your cable management needs and discover how we can help streamline your projects and improve cable organization.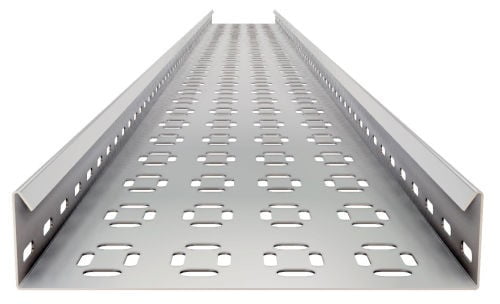 Cable Trays in Coimbatore

Cable Trays Manufacturers

Electrical Cable Trays Manufacturers


Cable Tray Manufacturers and Suppliers in Coimbatore

Powder Coated Perforated Cable Trays

Hot Dip Galvanized Perforated Cable Trays

Heavy Duty Perforated Cable Trays Suppliers in Coimbatore

Cable Tray Manufacturers near me

Cable Tray Suppliers near me

Perforated Cable Trays Supplier in Coimbatore

Wire Cable Tray Manufacturers

Heavy Duty Perforated Cable Trays in Coimbatore

Stainless Steel Cable Trays, Electrical Cable Tray

Channel Type Cable Tray from Coimbatore